Veeva Site Connect uses study-specific Agreements to initiate the flow of data between Vaults. Agreements are always initiated in your Clinical Operations Vault and sent to a SiteVault site.
Before you can exchange study-specific data, documents, and document requests with a SiteVault, you must first set up a study-specific Agreement with that site. After an Agreement is created in your Vault and then activated in the source Vault, you can send study-specific documents and document requests to the Study Site identified in the Agreement record.
Note: This feature is only available on Clinical Operations Vaults with Veeva Site Connect enabled.
Global Directory
Site institutions must be tracked as Organization records within the Global Directory to send study Agreements and exchange data via Veeva Site Connect. Navigate to Global Directory > Organizations to see all Organizations in the Global Directory.
Vault includes an orange "connected" icon (

) in the header of the object record details page for all Organizations that use SiteVault and have a valid USN value. This icon indicates that you can transfer documents and data to that site's target Vault via Veeva Site Connect.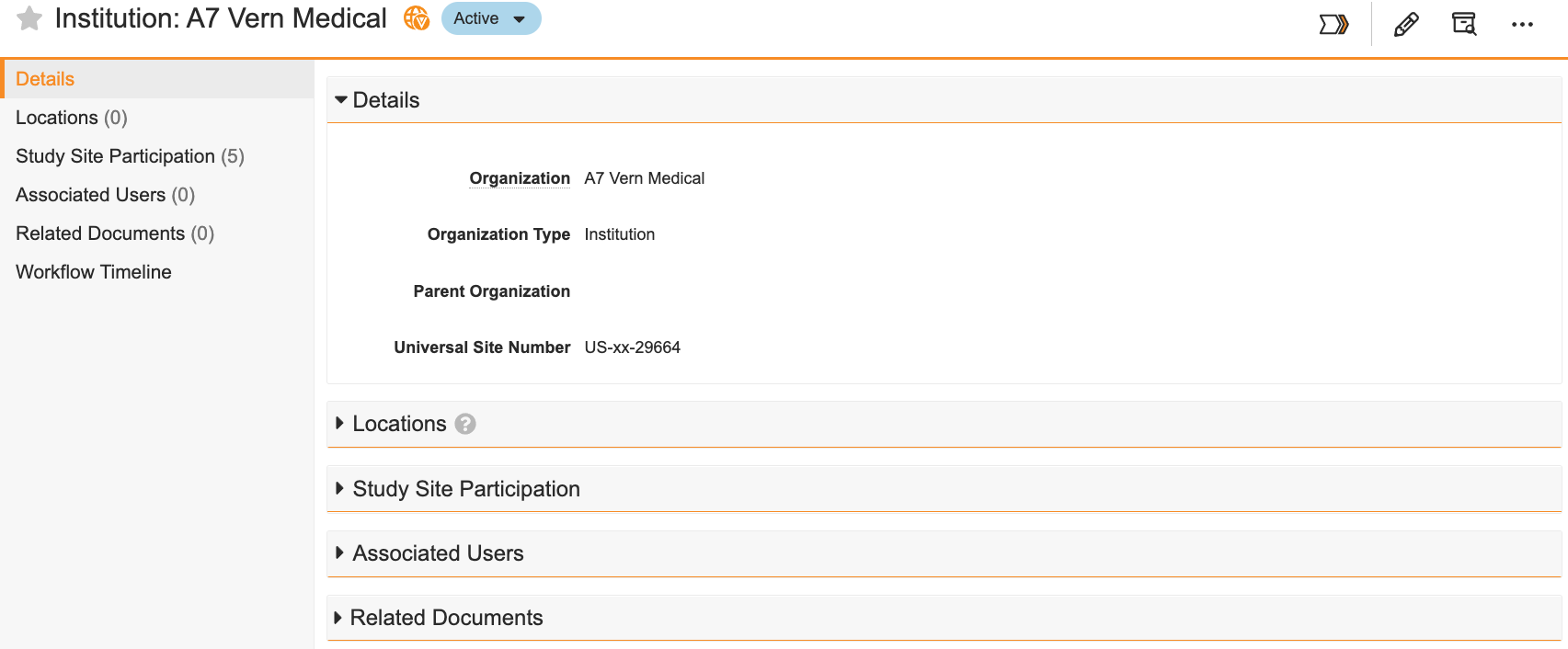 Universal Site Numbers (USN)
The USN is a unique identifier assigned by Veeva to each clinical research site that uses SiteVault. Study Site records must reference an Organization with a valid USN for Vault to send Agreements and transfer data to that site's target Vault.
Creating a Study Agreement
When configured, your Vault automatically sends Agreements to the study site's SiteVault. target Vault of the study site. For example, your Admin can configure Vault to automatically send an Agreement to a target Vault when you update the related Study Site record to Initiating state.
You can also manually create and send Agreements:
Navigate to the Study record and ensure the Connected Study Type field is set correctly. You cannot create an agreement if this field is blank.
Navigate to a Study Site record and ensure that the Organization field references an Organization record with a valid USN.
In the Study Agreements section, click Create.
Select the SitePackages Rule Set.
Select Send Agreement Invitation from the Actions menu. This moves the agreement to the Pending state and sends the Agreement to the target Vault.
Once Vault sends an Agreement, you must wait until a user in the target Vault approves and activates it before you can exchange data with that SiteVault.
When an Agreement is activated, Vault creates all Product, Study Product, and standard Study Product Role records associated with the study in the target SiteVault. Vault creates Lead Agent records for any custom Study Product Roles related to the study.
Accepting & Activating an Agreement
Vault creates the Approve Agreement workflow task in the target SiteVault and sends notifications to relevant users. Once a valid user clicks Accept and then selects the Complete verdict on the task, Vault launches the Agreement wizard.
The wizard displays details about the agreement, including the source Vault and study. Clicking Next displays more detailed information about the study and allows the receiving user to map the study in the source Vault to an existing study in the target Vault.
Vault asks the receiving user to clarify if the study already exists in the target Vault. If the user selects Yes, they must map the study records to existing records in their Vault. If the user selects No, Vault will create new records.
The receiving user must click Complete and approve the agreement to activate the connection.
Deactivating an Agreement
Any action that moves an Agreement record to the Deactivated state will first cancel any active workflows for the Agreement in the target SiteVault, then move the Agreement on both sides.
Connected Study Type
All Study records in a Clinical Operations Vault have a Connected Study Type field which determines the connections available to a given study. The contents of the multi-select picklist for this field are based on which products you have access to:
Document Exchange: Exchange of Documents with SiteVault. Available for Site Connect customers.
Safety Distribution: Exchange of Safety Distributions with SiteVault and via email to sites not yet using SiteVault. Available for Site Connect customers.
ePRO: Enables ePRO for sites using SiteVault. Available for ePRO customers.
eConsent: Exchange of eConsent documents with SiteVault. Available for eConsent customers.
If you aren't an ePRO or eConsent customer, you will not see these options in the picklist. If you have any Pending agreements on a given Study record, you cannot add or remove connected study types. If any agreements are Active, you cannot remove study types.