Sponsors working on connected Studies can invite Site personnel to sign up for SiteVault directly from their Clinical Operations Vault using SiteVault Inviter. To do so, users create new Signup Campaigns to track requests associated with a particular Study. Then, they can create individual Signup Requests for personnel associated with the Study. Users can track the status of the Signup Request from delivery through its completion and see information about the Site's Universal Site Number from within their Clinical Operations Vaults. Users may also identify which Sites/USNs a Site personnel email address may be associated with and send a SiteVault signup email to Site personnel not already associated with a USN. 
The Signup Campaign Object
The Signup Campaign page layout contains information about the various Signup Requests that you have created for a particular Study. The Signup Campaign page layout allows you to track the status of your Signup Requests throughout the lifecycle of the Signup Request by expanding the various sections of the page layout.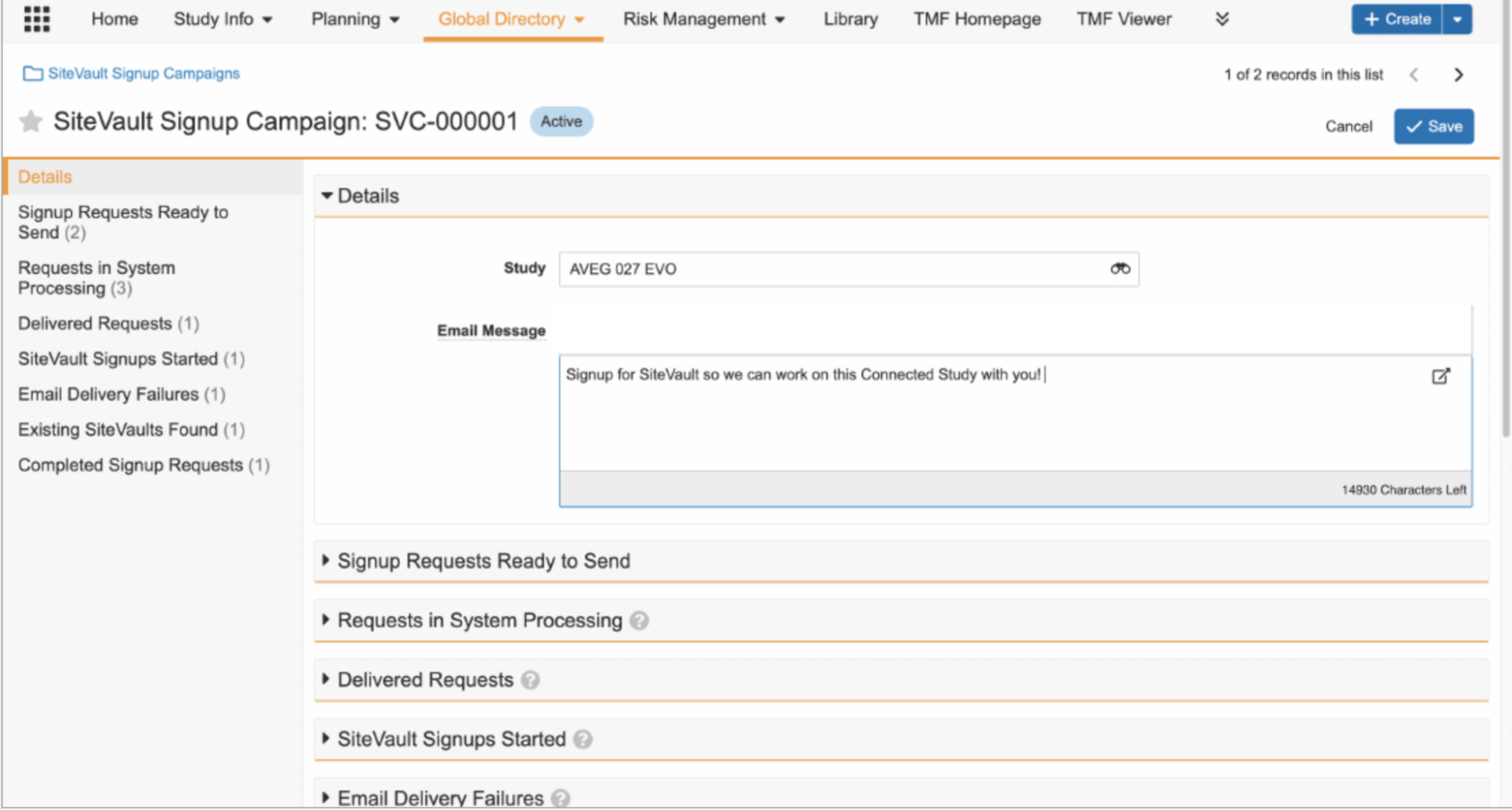 Using SiteVault Inviter
You can use SiteVault Inviter to invite Site personnel to sign up for SiteVault from your Clinical Operations Vault. 
Navigate to Global Directory > SiteVault Signup Campaigns.
Click Create.
Select a Study.
Enter the Email Message you want to include. 
Click Signup Requests Ready to Send.
Click Create. 
Enter the Name of the personnel you wish to invite. Vault automatically enters the Site Contact Email Address of the personnel. Repeat as necessary to add all required personnel.
From the Actions Menu, click Send Signup Requests. 
Optional: Enter the desired email address in the Reply-to field. This is the email address to which Vault sends a reply when a recipient of the Signup Request responds to the Signup Request email. 
Optional: Enter the Study Country and Study Site on the Signup Request. This can assist with reporting needs. In addition, it can benefit Sponsors/CROs who require the process to be managed by individual CRAs.
Vault sends the signup invitation emails to the appropriate personnel. Vault also sends reminder emails to recipients. It sends one a week after the initial delivery of the invitation and another two weeks after the initial invitation.
As people respond to the Signup Requests, Vault updates the Request Statuses. You can view these from the Signup Campaign page layout. When users complete a Signup Request, Vault updates the Status Details field of the Signup Request with information about the Site Details.